One of the most common conditions that individuals typically go through is neck pain/stiffness. Often times, neck pain can start from neck strain which occurs when one or more fibers in the neck and upper shoulder area stretches too far. This injury is often times referred to as a pulled muscle and the intensity can vary depending upon the degree of strain and how the particular injury had occurred. Most neck pain conditions typically heal within a few days to a few weeks however some more severe cases of neck pain and last for months especially if an individual was involved in a whiplash injury. Neck pain can vary from a mild achy to a sharp debilitating pain especially with motion. There are more than 20 muscles connected in the neck area. These muscles work together to help support the weight of the head and allow movements of the head, upper back, shoulders, neck, and jaw. When an individual over exerts themselves or stretches too far small tears can occur in the muscle, tendon, or connective tissue. These neck strains involve inflammation, pain, and swelling which usually causes neck stiffness.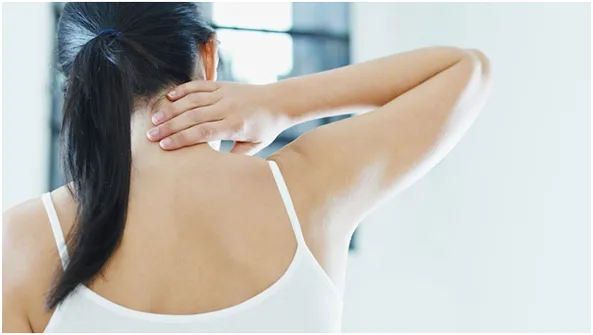 Common Symptoms of Neck Pain:
Achy or Throbbing Pain - A dull, nagging pain may persist and affects sleep at night or during the day. The ache usually originates from deep in the muscle.
Sharp Pain - Often times a knife or jabbing type pain sensation can be felt by individuals, which are more intense symptoms of a neck strain.
Pain that worsens with Movement - Frequently, the neck might not have any dull or normal pain at rest, but the symptoms of pain intensify with certain movement activities.
Muscle Spasm Forward/Stiff Neck - Inflammation can occur from an injury and trigger painful spasms involving near by muscles. Moving the neck in one or more directions may be difficult due to the swelling and muscle tightening to guard against further injury.
Chiropractors are trained to help identify these common signs and symptoms due to faulty postures or neck injuries. Chiropractic treatment goals for the cervical spine include pain management, improving range of motion, and restoring normal function to the head and neck region.
Some common causes of the neck pain include:
Repetitive Motion - Which occur when frequent turning motions have been made with the neck.
Poor Posture/Holding an Awkward Positions - Neck muscles and tendons can become over stretched when an individual's head is held too far in one position, either tilted to the side or rotated. The most common causes of poor posture involve being hunched over a computer and/or sleeping in an awkward position. An increasingly common problem of poor posture has been termed "Text Neck" which describes neck pain that is caused by looking down at a phone screen for too long or too frequently.
Lifting Something too Heavy - The neck muscles become over exerted and strained.
Fall or Collision - A sudden impact that can jar the head and neck causes the neck muscles to move too quickly. The common examples of these types of injuries are auto accidents, sports injuries, and bike accidents.
Make Our Duluth Chiropractic Clinic Your "Chiropractor Near Me"!
Our Duluth Chiropractor, Serving Kenwood, Hermantown, Duluth Heights, Kenwood Village, College of Scholastica, Woodland, Congdon, Lakeside, Lester Park & Surrounding Communities
No matter where you live in the Duluth area, we can help. Our clinic has been serving Kenwood, Hermantown, Duluth Heights, Kenwood Village, College of Scholastica, Woodland, Congdon, Lakeside, Lester Park & surrounding communities for years, and we would love to have you as the latest member of our little family. Please contact us today at 218-724-6008 to learn more.