Summer is sadly coming to an end and school is now in full swing. During this fall semester, it is important for students of all ages to remember how staying active and proper posture can greatly affect your well being while you are sitting throughout the majority of your days. Back related injuries can happen so easily if students are straining their muscles for longer periods of time or over loading their backpacks on their walks to school. Here are a few tips that may help you reduce your chances of back pain and muscle stress this school year.
Sit Up Straight - This is a no brainer. If you are in a slouched position or constantly twisting and turning in order to get comfortable your back is not properly aligned and you will feel worse as time wears on. While sitting in class your head should not be dipped and your spine should not be curved. Also, keep your feet flat on the floor and your knees bent at a ninety degree angle. For those of you who are taller than average it would be best to find a chair that fits your body type. Try finding swivel chairs in the classroom that can be adjusted to different heights or find a stool that is taller in height.
Don't Sit on Your Foot - This is a huge problem that a lot of people are guilty of especially women. It is important to never adjust your foot to be underneath you for longer than 10 seconds because it creates limitations and stress on rotation of the hip and knee. This position can also create problems with circulation and blood flow. Also, do not cross your legs while sitting because it creates tension and improper balance of the hips which causes the spine to be off centered.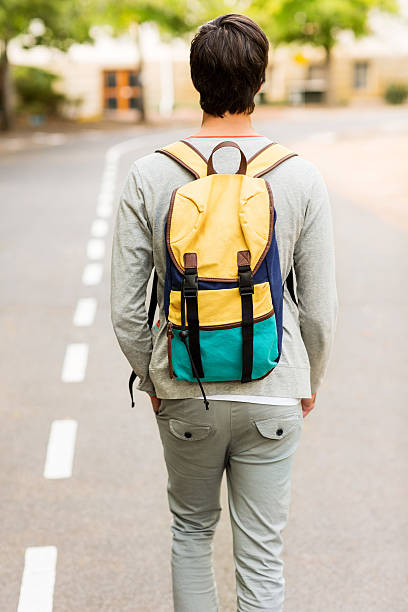 Backpacks & Safety - I think that we have all fallen victim to walking around campus with too much stuff on our backs. The first rule to follow is if it feels like a lot of weight, it probably is. Try on your backpack before you leave for class and take things out that aren't necessary for that day. Your backpack should also fit you properly and if the height isn't from shoulder blades to waist then it is time for a new one. When packing items, put the heaviest things closer to the back in order to distribute the weight evenly and so you can stand up straight with it on. Lastly, if you are in line at the coffee shop or waiting for the bus you don't need to be wearing your backpack. Give your back a break when you can and the less time you are spending carry  lots of weight the better.
Stretch Your Muscles - When you have multiple classes in a day it is important to get up and move around every hour or so. Even if you are not changing classrooms you should get up and walk to the bathroom or to get a drink of water. Staying active and participating in exercise when you are not in class will also help strengthen your muscles and keep you from having a sedentary lifestyle. Yoga is a good way to stretch all muscles and helps strengthen those in the torso that are the most affected. If all else fails please seek care from a primary care doctor or chiropractor!